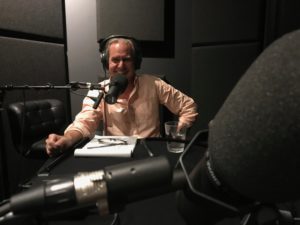 When I graduated from college in 1986 I was one of the most decorated college film students entering the workforce that year. I had won a student Emmy award for a music video I produced, and a short film I directed was in a lot of film festival.
I entered the "real world" bright eyed and eager. Then almost immediately I learned I could not, nor would not be hired by anybody to be a filmmaker. The gap between student filmmaking and professional filmmaking is massive, and I wasn't prepared to bridge that gap.
Stymied, I took a job working in the archives of the Museum of Broadcast Communication, and went home every night and wrote a script. It took several years, but that script got produced, I got writer and director credit, and now 5 years after graduation, I was a professional filmmaker. And have been one ever since.
In 1996 I started teaching in the Film Department at Columbia College in Chicago. I knew I didn't want to have my students graduate and face the same dilemma. I wanted to make sure they were prepared to become professional filmmakers. So I regularly tried to give students opportunities to do professional quality work.   I brought in clients from the outside, I had students find clients- restaurants who needed TV or web commercials, I brought other professionals into the classroom to work as mentors.
For the past 22 years I have worked in academia, first at Columbia College Chicago, then as one of the founding faculty at Tribeca Flashpoint College, and then at Columbia College Hollywood. While teaching I have continued as a filmmaker making TV commercials, documentaries, music videos, corporate work. My work as a filmmaker informs my works as a teacher and vice versa.
This website, the blog, and the podcast is going to focus on teaching in the arts, and being a student in the arts. I will be interviewing teachers in all sorts of artistic fields, and talking to students and recent graduates about their experiences and hopes for the future.
PeterH